Scorched Castle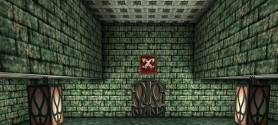 Release Date: 18 December, 2010
Author(s): Leo(T.C.K)
Number of maps: 1
Platform: Unreal Tournament
Website: N/A
From the readme:
You crashed with your boat in a nearby valley after a rough river ride, immediately noticing castle ruins in background
and getting your way through swamps, until you resurface at a small cave. You notice an outer wall of an old castle immediately,
but there's something with you there, watch out.

(This was made for the 20 Brush LD contest with 32 surfaces being the max, I was the only one who went SP route it seems. )
Although the main map is for UT, the map in the 'forUnreal' folder is playable in Unreal as well.
Press F2 to activate the translator